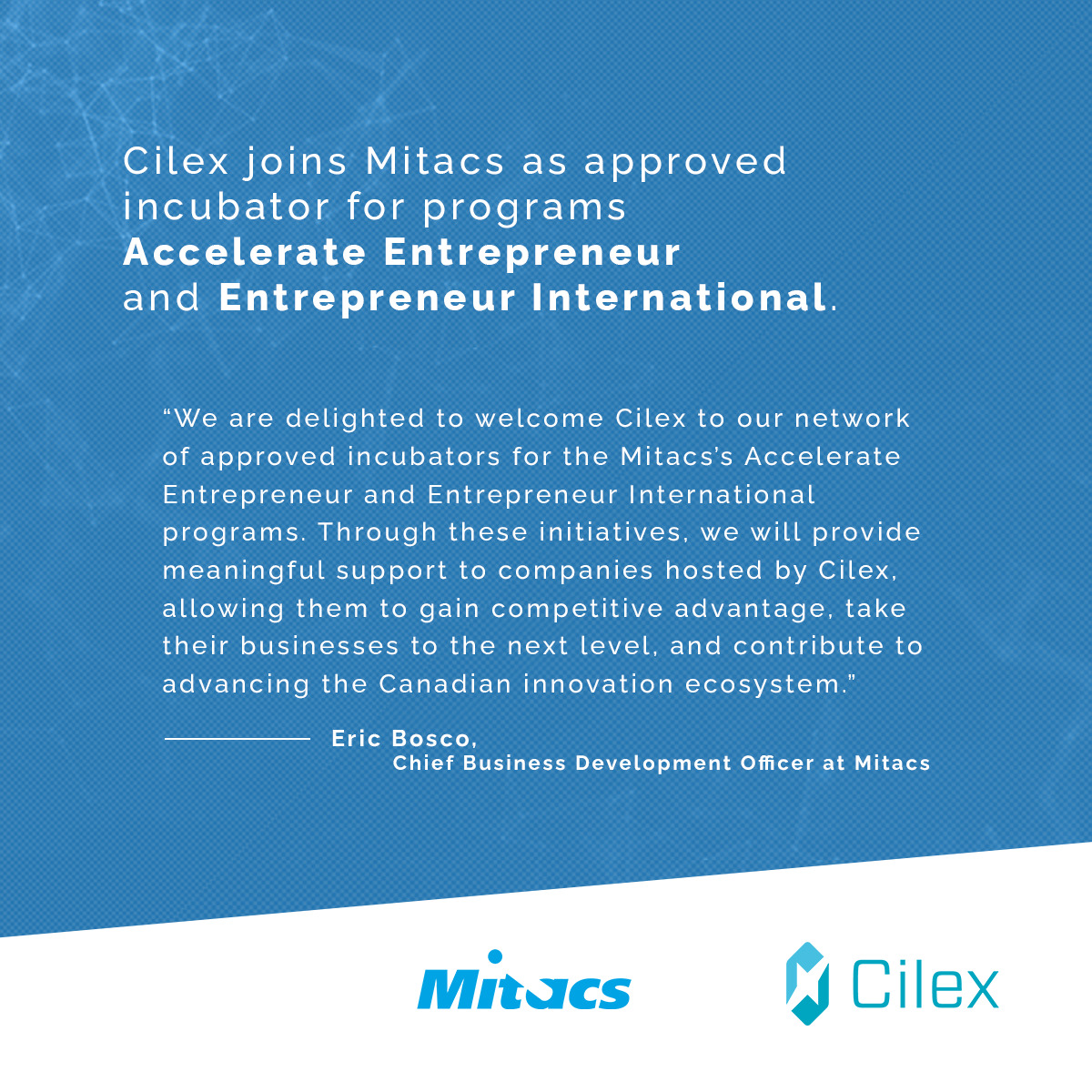 Cilex joins Mitacs as an approved incubator for the Accelerate Entrepreneur and Entrepreneur International programs
Cilex is pleased to partner up with Mitacs as an approved incubator for the Accelerate Entrepreneur program and the Entrepreneur International program.
"Being part of Mitacs' Accelerate Entrepreneur and Entrepreneur International programs allows us to be even better equipped to help our entrepreneurs. These programs were particularly important for us because they target key moments in start-up development, and because they offer new opportunities to collaborate with higher education institutions, like UQO." – Martin A. Roy, Director General
"We are delighted to welcome Cilex to our network of approved incubators for the Mitacs's Accelerate Entrepreneur and Entrepreneur International programs. Through these initiatives, we will provide meaningful support to companies hosted by Cilex, allowing them to gain competitive advantage, take their businesses to the next level, and contribute to advancing the Canadian innovation ecosystem." – Eric Bosco, Chief Business Development Officer at Mitacs
The funding provided by Accelerate Entrepreneur aims to help graduate student and postdoctoral entrepreneurs to further develop the research or technology at the core of their start-up business. The program targets development stages such as the trial and iteration phases of a new product, service or technology, while also helping entrepreneurs make the most out of a limited budget. Graduate students or postdoctoral researchers who qualify for the program can receive a $15,000 grant to undergo a four-month internship. Mitacs also matches the start-up's investment by 50%.
The Entrepreneur International grant is offered to Canadian start-ups housed in university-linked incubators for at least three months and a maximum of two years. Each grant offers up to $5,000 to cover travel fees for start-ups wishing to network with foreign incubators and explore international markets.
"These grants offer a helping hand to entrepreneurs, students and researchers wanting to launch or grow a business. With the expertise and network provided by Cilex, they will definitely be on the right track and build strong foundations." – Chloé Martinetti, Director of Operations and Development
Get in touch with us to learn more about the Accelerate Entrepreneur or Entrepreneur International program, or to submit a grant application!